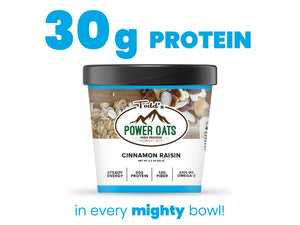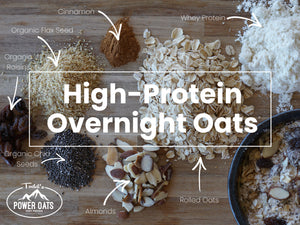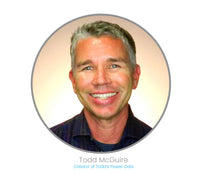 "I've reinvented the humble oat!"
My mission is to transform normal food into superfood! I made Todd's Power Oats because I was frustrated with all the crappy breakfast options on the market. I wanted a high-protein breakfast packed with fiber and healthy omega-3 oils, but got tired of cleaning the blender after making protein smoothies or egg white omelettes. So I created my own simple breakfast that turned humble oatmeal into a nutrition powerhouse. If you're looking for a smart high-protein breakfast that's easy to prep with zero clean up, look no further. My small-batch overnight oatmeal is what you're looking for!
Try My Oats!
The Story of Todd's Power Oats
For over 10 years I have been on a quest for the perfect breakfast: High protein.  Lots of fiber.  Convenient.  Simple ingredients.  After trying all the alternatives out there, I decided I could do it better myself.  The result is Todd's Power Oats.  I have seriously upgraded the humble oat (which I like for its cholesterol-busting fiber) by adding whey protein (keeps you full and builds muscle), flax seeds (great Omega 3 oils), chia seeds (more protein + antioxidants) and other tasty stuff like 51% cacao chocolate.  It's a breakfast like you've never seen.  Just add 1/2 cup of almond milk to the container before you go to bed and let it "cold-brew" in the fridge while you sleep!  In the morning you have a ready-to-eat breakfast that packs 30 g of protein with 12 g of fiber in a portable container you can take anywhere.   All that protein and fiber gives you steady energy to get you through to lunch feeling energized and in control of your eating.  I hope you enjoy it as much as I do!
--Todd McGuire, Creator of Todd's Power Oats
Customer Reviews
My go to breakfast...

Heart healthy. Protein Packed. Delicious. My wife and my go to breakfast every morning.

Alex P.
The substantial protein attracted me...

Todd's Power Oats is an excellent product. I've been eating it regularly for the past 6 months and have achieved my weight goal and maintaining it. The substantial protein component attracted me to eating this not only for breakfast but satisfies a meal/lunch if I'm away from home for hours. Tasty and satiating!

Janet K.
The best 7:00 am breakfast one may consume.

The finest ingredients, perfect taste, copious amounts of everything good.

Always a treat before the morning training session.

Long time customer.

Murray H.
Delicious flavors...loaded with protein

Delicious flavors...loaded with quality protein and high in fiber
Being a fitness professional I'm looking for a product I can recommend to my clients and this one I absolutely suggest

Carols G.
Absolutely amazing flavor...

As someone that religiously follows macros with a very busy morning, there is no better breakfast than these oats. Absolutely amazing flavor and packed w/ protein. 10/10

Gary R.
My daily, go to breakfast...

I've been an amateur bodybuilder for over 30 years and have always searched for new products which meet my protein needs and requirements.

My search brought me to Todds Power Oats in December 21'.

Todd's power oats are now my daily, go to breakfast before my morning training sessions.

Over 30 Grams of high quality protein make my morning's complete and prepared for the day.

Murray H.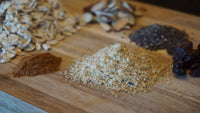 Golden Flax Seed
Omega-3 essential fatty acids: "good" fats that have been shown to have heart-healthy effects.
Fiber: Flaxseed contains both the soluble and insoluble fiber to help aid digestive health.  
Lower Blood Pressure: A 2013 study in the journal Hypertension found flaxseed to lower both systolic and diastolic blood pressure after 6 months
Lignans: Flaxseed contains 75 to 800 times more disease-fighting lignans than other plant foods. 
*These statements have not been evaluated by the Food and Drug Administration. This product is not intended to diagnose, treat, cure, or prevent any disease.